In this interview, AZoM talks to Dr. William G. Fahrenholtz about his research, and how he uses Phase Equilibrium Diagrams within it.
Can you give a brief description of your research?
My expertise is in the areas of processing and characterization of ceramics. My current research is focused on ultra-high temperature ceramics. Our group researches the synthesis, densification, mechanical behavior, and thermal properties of boride and carbide ceramics including zirconium diboride (ZrB2), zirconium carbide (ZrC), tantalum carbides (TaC, Ta2C, and z-Ta4C3-x), HfB2, and TaB2 along with so-called high entropy borides and carbides that contain several transition metals in nearly equal molar amounts such as (Hf,Zr,Ti,Ta,Nb)C. We have one of the few laboratories in the world that has the specialized equipment to comprehensively study materials such as these that have melting temperatures in excess of 3000°C. We have a variety of ultra-high temperature furnaces and hot presses for producing these ceramics along with equipment for testing the mechanical, thermal, and electrical properties from room temperature up to at least 2000°C.
Can you give a brief description of what a Phase Equilibrium Diagram is?
Phase equilibrium diagrams are essentially maps of composition, temperature, and, in some cases, pressure space that define regimes for thermodynamic stability for one or more condensed phases. Phase diagrams are used by materials scientists to determine the stability of different phases. Binary or ternary diagrams can be used to determine whether materials are compatible under certain conditions. For example, phase diagrams can be used to determine if a particular crucible material could be used for reacting powders at elevated temperatures.
How do Phase Equilibrium Diagrams assist you in your research?
We use phase diagrams in a number of ways. One example is that we use phase diagrams to determine basic information about materials of interest in our research. For example, a binary ZrB2-ZrC diagram provides a wealth of information including the melting temperatures, which are shown as 3040°C for ZrB2 and 3530°C for ZrC. In addition, the diagram shows the behavior when ZrB2and ZrC are mixed. When these two materials are mixed, they are compatible as solids at temperatures up to what is known as the eutectic temperature. At that temperature, they undergo a reaction to form a liquid phase. In this system, the eutectic temperature is 2660°C. The mixture melts directly to a liquid at 2660°C at a composition of 57 mol% ZrB2. At other compositions, liquid forms at 2660°C, but it is in equilibrium with either ZrC or ZrB2 depending on whether the original mixture contained less than 57 mol% ZrB2 or more. Another way that we use phase diagrams is to predict what will happen when mixtures of materials are heated together.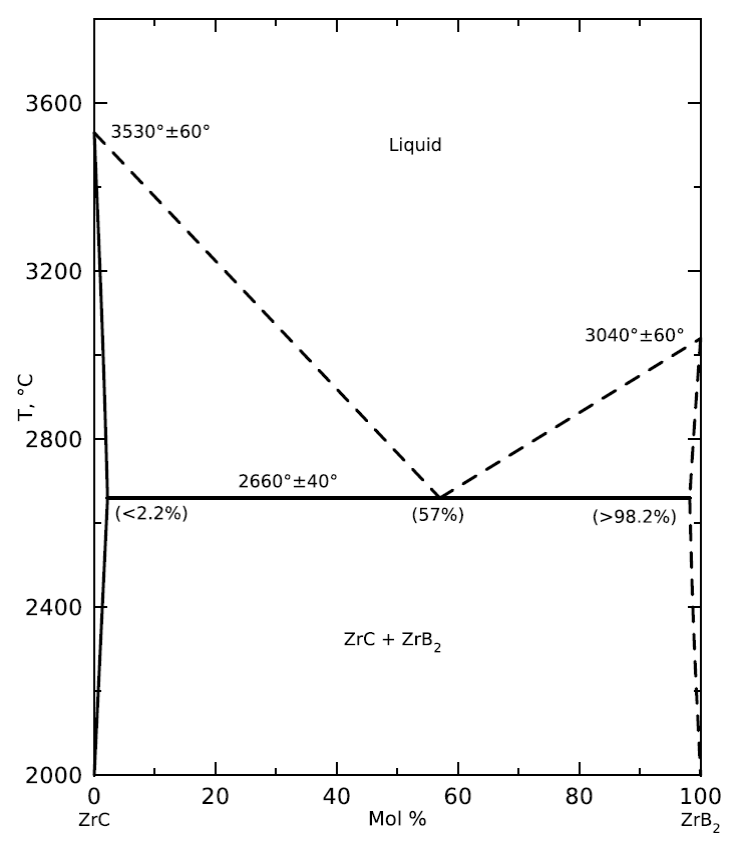 Pseudo-binary phase diagram of ZrC-ZrBr2(Credits: American Ceramic Society)
What product do you use to for your Phase Equilibrium Diagrams?
We use several sources for phase diagrams. We routinely use the print version of Phase Diagrams for Ceramists and various electronic versions of the ACerS/NIST product. We also use thermochemical simulation software to calculate phase diagrams when the diagram that we want is not available or to understand how different parameters affect phase equilibria.
Why did you choose to use the ACerS/NIST Phase product?
We chose this product because it is the best available source for phase diagrams of ceramic systems.
Would you recommend that other ceramics and glass researchers use the ACerS/NIST?
I highly recommend the database because it is comprehensive and fully vetted by NIST. We trust the diagrams in the database.
What's next for you and your research?
We are exploring a variety of different aspects of ultra-high temperature ceramics. We have current research related to the synthesis and densification of highly pure boride and carbide phases with the intent of studying intrinsic properties. We are studying emerging areas of UHTC research including entropy-stabilized UHTCs and 2D materials.
About Dr. William G. Fahrenholtz
William G. (Bill) Fahrenholtz is a Curators' Distinguished Professor of Ceramic Engineering in the Department of Materials Science and Engineering at the Missouri University of Science and Technology (formerly University of Missouri-Rolla) and the Editor-in-Chief of the Journal of the American Ceramic Society. He earned B.S. and M.S. degrees in Ceramic Engineering at the University of Illinois at Urbana-Champaign in 1987 and 1989, respectively. He completed his Ph.D. in Chemical Engineering at the University of New Mexico (UNM) in 1992. Since starting at Missouri S&T in 1999, Bill has received several awards including seven campus-wide faculty excellence awards, two teaching awards, and a prestigious CAREER award from the National Science Foundation. He was elected a Fellow of the American Ceramic Society in 2007 and was named Editor-in-Chief of the Journal of the American Ceramic Society in January 2017. Bill teaches undergraduate and graduate courses on thermodynamics and x-ray diffraction. His current research focuses on the processing, characterization, and mechanical testing of advanced structural ceramics for use in environments with extreme thermal loads, mechanical forces, and/or chemical reactivities. He has published over 140 papers in peer-reviewed journals and given over 80 invited presentations on his research.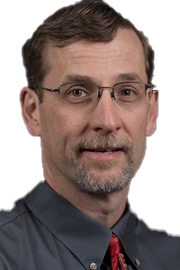 Source: https://www.azom.com/article.aspx?ArticleID=17069