Talk to the tile experts and it's clear two contrasting trends are set to dominate this year – a move towards dark, moody looks, and a demand for colour.
Mike Syddall of The Tile Depot Co especially welcomes the latter. "At the moment we are seeing soft colours, such as sage, rose-blush, aquamarine and even some navy.
"Many factories that previously ignored wall tiles to focus on high-volume floor tiles are getting in on the wall tile developments, and it has been a breath of fresh air for us to add some colour to our showrooms and, in turn, Kiwi homes."
NKBA designer Natalie Du Bois, who has also noticed the increasing number of pastel shades along with "petrol blues and earthy greens", expects this to continue – she has used colour in her own projects.
But simultaneously, there are homes where the dark look rules.
"There is a shift to darker tones and more metallic looks, for kitchens and bathrooms," Du Bois says. "It's not a shiny metallic finish, but more of a burnished iron, copper or brass. One dark marble that is appearing everywhere is Nero Marquina, which is black with white veining, so it's almost like the opposite of Carrara."
Concrete effects and rustic textures are also big. Graeme Clearwater of Tile Trends says designers are looking to add interest to walls, and textural tiles are a great way to do this. Some tiles even have a 3D effect, which makes a strong visual statement in a feature wall.
BIG IS BETTER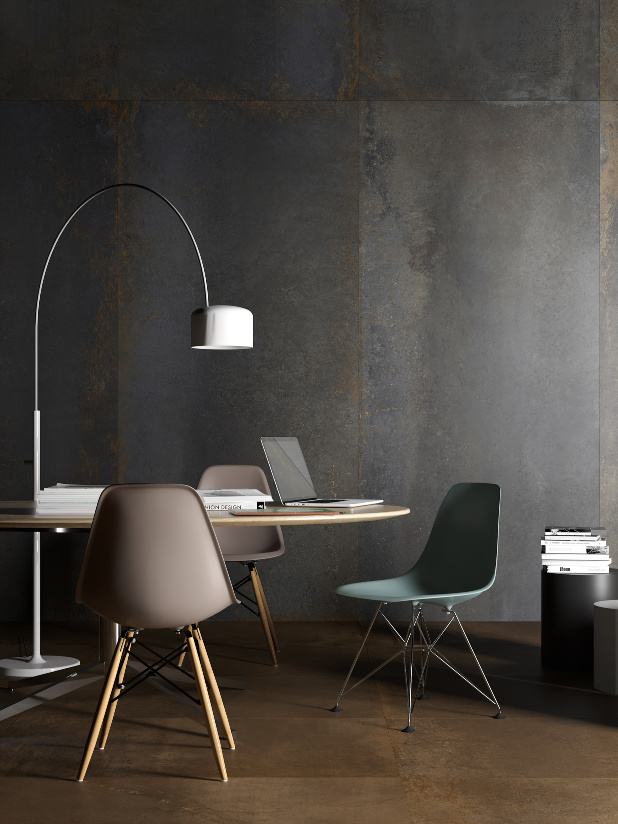 Large-format tiles that replicate burnished metals are right on trend. This is the Ferrocemento tile in Nero from The Tile Depot Co.
---
Another big trend is the move to extra-large porcelain sheeting, which "took off" last year and continues to be in high demand. These extra-large tiles, or sheets, often replicate marble, including Carrara, and are used for benchtops, walls and floors.
Du Bois says large-format sheeting was "pretty much used everywhere" when she visited the EuroCucina fair in Milan last year – it featured on floors, cabinetry cladding, benchtops, walls and even ceilings.
 "There is less grouting with these large-format tiles," the designer says. "But you do need to think about access. For example, Neolith sheeting, which is made from natural stone, can measure 3200mm by 1600mm. Dekton, Laminam and Florim are other brands with large-format products. "
Syddall even goes to far as to say a 600mm by 600mm tile is now considered small. Porcelain sheeting is available in a range of sizes that include 1200mm by 1200mm and 1800mm by 900mm.
And products, such as the 1000mm by 3000mm Coverlam marble-look range from Tile Trends, can span an entire wall, from floor to ceiling.
BUT PATTERN RULES, TOO
Mosaics are still in demand, but usually as feature tiles in smaller areas. "Think chevrons, hexagons, fans and penny rounds," says Du Bois.
And that is part of another trend – the way tiles are laid is also changing the look of rooms.
"A return to the smaller size formats of old, with plenty of brick-format tiles has triggered a focus on various laying patterns. Herringbone is the hottest way to lay at the moment," says Syddall. "People have learned a very simple, affordable white wall tile can look incredible laid in a herringbone pattern."
Geometric patterns have been popular for several years and are still strong, with European designers and tile manufacturers. Clearwater says leading lines from Tile Trends – for floors and walls – include Heritage, a Moroccan-inspired design, and Nairobi, inspired by African designs.
So, whether you like it "busy" or cool, calm and collected, you can't go too wrong with your tile choice this season.
Source: https://www.stuff.co.nz/life-style/110906273/whats-hot-in-tile-trends